Hi-Tech Spark proof Hoist :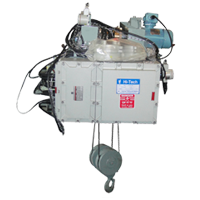 GENERAL SPECIFICATION FOR SPARK PROOF HOIST :
The drive shall consist of flame proof motor, brakes, limit switches and push button stations.
All electrical fittings shall be flameproof suitable for group IIA and IIB vapour.
Flame proof limit switches for extreme ends in horizontal and vertical movement.
Inching facility (for up & down motion as well as forward & reverse motion).
Flame proof local control panel housing.
Main incoming isolator.
Contactor, relays, fuses etc.
Overload and short circuit protection for motors.
ELECTRICALS :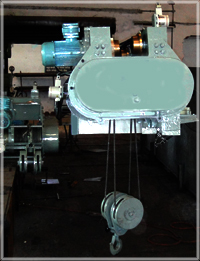 Power Cables shall be 1100 v grade, PVC insulated, GI armoured & PVC overall sheathed. Conductor shall be of copper below 10mm2 & for sizes above 10mm2 cables shall be XLPE / SWA. Control cables shall be multistrand copper conductors of minimum 2.5 sq. mm. All motors shall conform to squirrel cage induction motors, TEFC, IP – 55, Class 'F' insulation, flameproof suitable for Group IIA & IIB vapour, CMRS certified.
MECHANICALS :
All metal-to-metal contact are of non-ferrous i.e. phospherous bronze like cross travel wheels, .
INSPECTION AND TESTING :
The hoist shall be offered for final inspection.
Client / authorised representative shall at all times have an access to supplier's / suppliers sub contractors workshop to witness fabrication stages.
Internal inspection record shall be maintained by supplier / suppliers sub contractor at all times, if any stages are found lacking by way of proper records. Client reserves, the right to ask supplier to modify / amend the fabrication stage.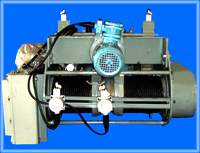 | | |
| --- | --- |
| Crane | Hi-Tech Make |
| Motor | Crompton / PEW / Bharat Bijlee |
| Gear | Hi-Tech make |
| FLP junction box | SHAYAM SWITCH GEAR WITH CMRI CERTIFICATE |
| PBS | SHAYAM SWITCH GEAR WITH CMRI CERTIFICATE |
| Limit Switch | SHAYAM SWITCH GEAR WITH CMRI CERTIFICATE |
| Brakes | Pathe / BCH make with Micro Make Enclosure |
| Wire Rope | Usha Martin (Galvanized ) |
| Control Panel | SHAYAM SWITCH GEAR WITH CMRI CERTIFICATE |
| Main isolator switch, Contractors, relays, LED | Telemechanic / Siemens / L & T |
| Fuses | GEC / Siemens / L & T |